Irene Drever, aged 60, from Orkney, was diagnosed with motor neuron disease in July 2020 after several years of experiencing unusual cramps in her arms and hands, and a progressive loss of strength.
In support of Irene and to celebrate her 60th birthday, friends Yvonne Hayne and Rhona Laughton embarked on a 60-day fundraising campaign for MND Scotland. Their challenge involved encouraging participants to walk 6,000 steps each day, for 60 days, spanning from July 5th to September 2nd.
You can help to support more people like Irene by getting involved here.
On the incredible support from Yvonne and Rhona, Irene said: "I was really touched when Yvonne and Rhona told me that they, together with other former colleagues from Papdale Primary School, where I was a teacher, told me they wanted to mark my 60th birthday with a fundraiser for MND Scotland.
"We had around 50 people join us on the first walk in July, with family, friends, colleagues and former pupils. It made such an enjoyable summer bringing so many people together. On the final walk on my birthday, we had almost 100 in total. It was overwhelming to celebrate with so many people who are so special to me and I don't think I've come back down to earth yet!"
She continued: "The support from the wider Orkney community was tremendous and the final total raised was £10,391. The Papdale team, including Yvonne and Rhona, is second to none, and it has been a joy to spend time with them all again."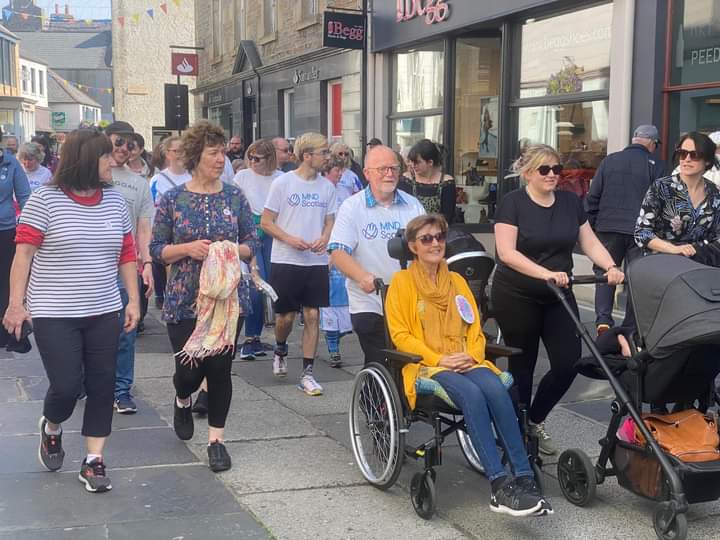 Since being diagnosed with MND, Irene's friends and family have continued to support MND Scotland, holding various fundraisers, raising a fantastic total of over £30,000.
Recalling her diagnosis, Irene said: "In March 2020, during the early days of lockdown, I had a GP appointment, and she referred me for further assessment. A consultant diagnosed me with Functional Motor Disorder in May, advising rest, which unfortunately didn't bring any improvement. After a follow-up with my GP, I underwent further tests in Aberdeen, which is when I was finally told that I have MND."
Like many people across Scotland diagnosed with MND, Irene has been able to use MND Scotland's support services and grants to help with the numerous complex difficulties presented by this devastating disease.
Irene said: "MND Scotland is a very hardworking charity and a 'one stop shop' for us. We have benefited from advice with benefits claims and grants to help with a family holiday and our house alterations as well as providing services to help carers, and my husband Andrew and I both are in receipt of a grant towards the cost of complementary therapies such as osteopath and reflexology.
"I have also been fortunate to be taking part in the MND-SMART clinical trial, funded by MND Scotland, seeking a more effective treatment or cure for MND."
On her outlook on life with MND, Irene said: "Each loss of an aspect of my independence is difficult, but without a doubt, losing my mobility has been one of the biggest challenges we have faced. 
"Taking responsibility for my own health has always been really important to me, and this particularly applies now. I have found ways to live with MND, but just as importantly, ways to fight back.  My husband, Andrew, has been a huge support to help me to live well with MND. I also have tremendous support from the team of health professionals locally, co-ordinated by the MND Specialist, Moira Flett. She is fantastic, and together they have helped us to overcome many of the challenges we face.
"When I was diagnosed, I was heartbroken and terrified but equally determined that we would focus on making the most of the time we were given and get on with living life to the full. We've had many tears since, but thanks to my wonderful family and friends, much more fun and laughter!"
Head of Fundraising, Julie Macdonald said: "It's truly heartwarming to learn about Yvonne and Rhona's dedicated fundraising efforts in support of Irene, and we extend our heartfelt gratitude to everyone who took part in raising over £10,000. These funds will directly aid more individuals and families across Scotland who are coming to terms with the impact of this devastating condition.
"I am grateful that we have been able to provide such comprehensive support to Irene and her family, and, on behalf of everyone at MND Scotland, I would like to thank Irene for bravely sharing her story. Together, we will continue to be the helping hand of support for people affected by MND. Thank you again, Yvonne, Rhona, and Irene, for your unwavering commitment to making time count."
You can make time count for people across Scotland affected by MND by donating today. For more ways to get involved, please visit us here.